Why Do Companies Choose Digital Marketing?
Every year, companies spend thousands of dollars on digital marketing and get nothing in return. That's because they're not sure what to buy or who to buy it from. This guide will teach you everything you need to know about digital marketing, including how it works, what tools you can use, and the best places to spend your money. The more you learn about digital marketing, the more successful your business will be!
Out of all the channels that companies can use to advertise their products and services, digital marketing offers the biggest bang for your buck, with unparalleled returns on investment (ROI). In fact, in a recent survey conducted by HubSpot, 79% of businesses reported getting ROI from their digital marketing campaigns. And because it's easier than ever to track your digital marketing efforts, you can easily see what's working and what isn't. Here are the most important reasons why businesses choose digital marketing—and why you should too!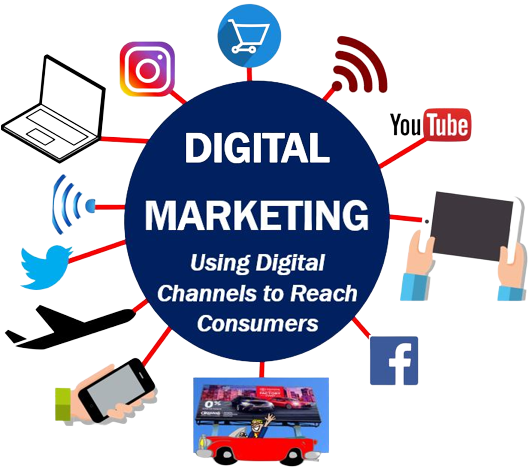 Everyone has heard about digital marketing, it's all over TV. However, if you are like most small business owners you don't know what digital marketing is or how to use it. Since your target audience is not going to search through Google looking for information on digital marketing services they need, how do you reach them? What should you do? How do you reach customers online? The key is to start with a good plan and by asking yourself a few questions before you jump into anything. You can have an amazing website that doesn't get any traffic because you didn't put any effort into promoting it. You can spend money on pay-per-click ads that never convert because your landing page isn't relevant to your ad copy. Or you can get some help from someone who knows what they are doing! That is where we come in! We offer affordable digital marketing solutions that will fit within your budget while still getting results!
Sales approach in the digital world
The digital realm of marketing is all about sales and leads. Every website and social media account has a very specific business objective, whether that be to drive people to a particular call-to-action (CTA) or generate more leads through an automated email campaign. For these reasons, digital marketing agencies heavily focus on learning how people buy online. As such, there are many different types of lead generation tactics used in digital marketing campaigns. Some common examples include: Search engine optimization (SEO), Pay per click advertising (PPC), Social media marketing, Email marketing and Display advertising. These tactics can be used separately or in combination depending on your goals for each individual project.
Landing pages offer a highly targeted opportunity to capture new leads. When coupled with retargeting ads, landing pages can help you build awareness around your brand while also building familiarity with your company's products and services. Case studies are another fantastic way to use digital media as they showcase case studies of previous clients who have had success with your company's products or services. This allows prospective customers to get a behind-the-scenes look at how their business will benefit from working with you.
Digital marketing agencies understand that not all businesses want to be on every social media platform available. While Facebook, Twitter and LinkedIn remain some of the most popular platforms for B2B companies, it is important to keep in mind that every business has different needs when it comes to social media marketing.
Given that you can set your own sales budget, you don't have to worry about expensive mistakes. Your direct marketer isn't trying to sell a $100,000 ad campaign—they want to get you results at a price point that works for you. Plus, they are incentivized to find ways to deliver on their promises; if they don't provide value, your company will stop working with them and move on. This is something you rarely see in traditional marketing channels.
A digital marketing agency provides a variety of services including SEO, PPC, Social Media Management and Content Creation etc. You can choose any one or more services as per your business requirements. These agencies also help you to increase your ROI by providing measurable solutions through data analysis & reporting tools which helps in tracking & monitoring online campaigns effectively. With digital marketing agencies, you get access to cutting-edge technology with skilled professionals who know how to use it for getting optimum results. They have years of experience in delivering high-quality work within deadlines. Moreover, they provide value added services like content creation that are essential for today's businesses.
A good digital marketing agency is an asset for your business as it will help you achieve desired results with ease & consistency at affordable costs. So what are you waiting for? Choose an experienced professional today!
When you're just starting out, it can be hard to make money on digital marketing. However, digital marketing is one of the most cost-effective ways to market your company online. With digital marketing, you only pay for results — there are no ongoing costs involved. This means that if someone clicks on an ad or links to your website and then buys something from you, you only have to pay a small fee. This makes digital marketing much more affordable than other forms of advertising, such as TV commercials or print ads. In fact, some companies find that their digital marketing campaigns actually save them money in the long run. If you use social media regularly, for example, you may end up spending less on traditional advertisements because your social media posts will help spread awareness about your brand for free. Many businesses choose to experiment with several different types of digital marketing before they commit to one full-time. 
The great thing about digital marketing is that you can try different strategies until you find what works best for your business. For example, if you notice that Facebook Ads work really well for your company, but Instagram doesn't seem to get any engagement, you can quickly shift gears and focus on Facebook instead. There are so many different types of digital marketing out there that experimenting is a great way to find what works best for your particular business!
Good Return on Investment (ROI)
While every marketing channel has a different payoff, there's no doubt that digital marketing provides a good return on investment (ROI). It's estimated that companies are able to realize a 2:1 ROI for every dollar spent on digital marketing. This is largely due to how targeted digital ads can be and how easy it is to measure results. With other channels like TV or print advertising, it's difficult to determine what worked and what didn't because of other factors like weather or demographics. With digital marketing, you can easily track metrics such as impressions, clicks, shares, likes and more. These numbers are far easier to interpret than sales figures or demographic data. You can use these metrics to compare against your goals and see where you need to improve. If, for example, your goal was increased awareness in a certain area but your website analytics show an increase in traffic from another area, then you know where your efforts should be focused.